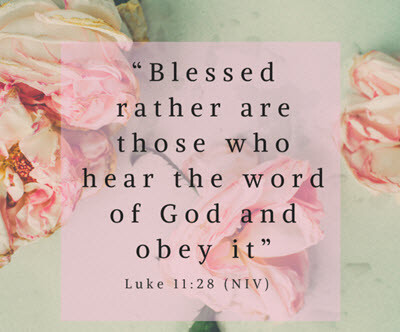 Blessed are they who hear the word of God and obey it. (Luke 11:28)
"Yesterday's partial obedience creates staggering consequences for today's experiences." – Priscilla Shirer
That statement hit me like a ton of bricks. I recently started Priscilla Shirer's "Gideon" study and wasn't expecting to be smacked in the face on the first day. I'm an independent person and don't like to be told what to do, just ask Eli (sorry, babe). It's something I know about myself, and while I think being independent is a good thing at times, it also can bring out a stubborn attitude that is not fun for anyone. (Again, sorry Eli!)
This independent, stubborn nature can also bring about an attitude towards God that is very dangerous. When He asks me to do something, more times than not I am only half-way obedient, or not obedient at all. Most of the time, I'll just go about my day and not think too much about it.
But then there are times where I look back and see what I've just done, or not done, and am filled with instant regret. I'll never forget working in college at a gym whose owner was a believer and had centered the place around Jesus. Someone came in one day and asked what the name of the gym meant and what the logo stood for, so I began explaining, feeling pretty good about the fact that God had so easily placed an opportunity right in front of me – one that I didn't have to work hard for at all.
I casually said to this person, "Yeah, all of the staff here are believers." Working behind the desk with me that day was a guy who turned to me after the conversation was over and said, "Just so you know, I don't believe in that." And I just stood there. All I said was "Oh, okay," and went about my business. I still kick myself for that interaction. God placed an easy opportunity in front of me to talk about the gym name and explain simple things. Only now do I see He was gearing me up for a HUGE opportunity to share Jesus with my co-worker, and I chickened out! Even if the conversation wouldn't have led to anything, I had a chance to ask him what he believed in and share the Gospel with him, but I froze. I wasn't prepared and I wasn't ready to be fully obedient to God.
I often think about when God began speaking to Moses from the burning bush in the book of Exodus, telling him that he would be key to rescuing the Israelites from Pharaoh, and I get so frustrated with all the excuses Moses begins to make. From our point of view, it's easy to say, "If God's calling you, He's going to equip you." But when it's our turn, we turn into the babbling idiot making all the same excuses that Moses did: "Who am I that I should go? Who do I tell them you are? What if they don't believe me?"
I'd like to say that after that failed opportunity at the gym, I took every chance God gave me to share His word. But alas, here I am, still the same stubborn and selfish girl who feels too scared and inadequate to be God's spokesperson. I don't have the end-all magic answer to remedy this plague of disobedience. The only thing I know to do is ask God to forgive me when I am disobedient, and help me to become less dependent on myself and more dependent on His Spirit. That's the only way I can dive into the obedience pool and be courageous enough to do what He has called me to.
Perhaps you feel God calling you to do something right now, during this time of coronavirus-induced uncertainty and, at times, what feels like downright panic. And perhaps you, too, are coming up with the excuses of a half-way obedient believer. During times like these, being obedient also means not giving in to fear. When it comes to God's calling for our lives, especially during times when the world may not understand why we're going right when everyone else is going left, fear is not something we can let get a grip on our lives.
Pastor Matt put it so perfectly during last Sunday's service (check it out here). He said there is nothing more that the enemy would love than for us to live in fear and panic – an active state of disobeying God's call to put our trust fully in Him. But, as 2 Timothy 1:7 says, "God has not given us the spirit of fear; but of power, love, and sound judgment."
While I do think we need to take this virus seriously and follow the leadership that God has placed over this country, I also believe we must trust in the Lord, take hold of the Holy Spirit, and not let fear overcome us. I pray for safety and health over your families and trust that the Lord will provide for us during this time.
Kristi Laughlin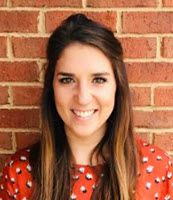 Interested in becoming a Women's Ministry blog contributor? Contact Jenn Dennard ( ) for details.
Interested in joining the Women's Ministry team? Visit our Teams page to discover our various committees and which one might be the best fit for you.
In need of prayer or a fellow woman in Christ to chat with? The Women's Ministry team would love to be there for you. Email Kim Edde ( ) to connect with one of our team members.
Connect with the Women's Ministry via Facebook (https://www.facebook.com/bhbcsistersoftheheart)