Welcome to Burnt Hickory's Women's Ministry
Join the Women's Ministry on Thursday, April 25th in Radiate for a free ladies night out with comedienne Kerri Pomarolli.
Check out our event details and make a plan to join us!
---
Building Oneness in Christ
"I urge you to live a life worthy of the calling you have received. Be completely humble and gentle, be patient, bearing with one another in love. Make every effort to keep unity of the Spirit through the bond of peace." (Ephesians 4: 1-3)
Welcome to our new blog! I am very excited about this new Women's Ministry resource. We hope it will become a great way to hear from the women of our church throughout the year. (Email Jenn Dennard – - for details about becoming a contributor.)
Just a little bit about me: I was recently asked to step into the position of leader of the Women's Ministry team. With much prayer, I felt Christ was leading me to accept. I have three grown children and one grandson. I love to snow ski and play tennis, plus interior design and family time. My passion is building relationships between women.
Retreating in the New Year
The WM leadership team kicked off the year with a short retreat focused on the fruits of the spirit. It was a time of bonding, hearing one another's faith story, and focusing on each fruit through mini devotionals given by each team member. This devotional time was a reminder that in order to have the attitude of Christ, we must choose to follow the leading of the Holy Spirit as His words instruct us. (Check out "Cultivating the Fruit of the Spirit" by Christopher J.H. Wright if you'd like to better understand Galatians 5:22-23.)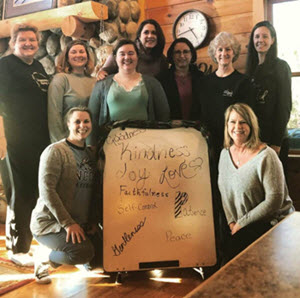 Another theme that kept coming up during our time together was the desire to help the women of our church develop relationships with each other. Whether you're new to BHBC or have been a member since the "hardware store" days, getting "plugged in" and making new friends can be hard in a church of our size. And so we are in the midst of planning to have several different locations around Cobb and Paulding where women can drop in to hang out, meet one another, and become familiar with the Women's Ministry team and Life Group leaders that correspond to different seasons of life. More details coming soon!
As you may have realized by now, we will not host a churchwide Women's Ministry retreat this year. With much prayer and discussion, the planning committee felt that God wanted them to take a break, regroup, and wait for His direction regarding an event in 2020. We will host a Retreat Forum at BHBC on Monday, April 22 at 7pm to gather ideas and suggestions about next year's retreat. See details about that below. We are positive that God will do something amazing in 2020!
Other upcoming Women's Ministry activities include:
March 9: MUST Ministries Serve Day from 10-12pm at the MUST warehouse at 1280 Field Parkway, Marietta, GA 30066. Contact Donna Redner to RSVP .
April 22: Retreat Forum at 7pm. Location at BHBC TBD. Join us as we gather ideas and suggestions for the 2020 Women's Retreat. Plan to come and share your ideas.
April 25: A Night of Cake, Coffee, and Comedy with Kerri Pomarolli, author of the "Mom's Night Out" devotional and movie screenplay. Free admission. We'll be collecting full-sized hygiene items for women as part of our missions outreach that night.
Let's Get Started
My heart for the women's ministry is that we will all feel we are one in Christ and "walk across the room" to meet each other. My prayer is that God will help us build each other up. Recognizing the value of every person. Focusing on what's important. Living by faith.
Continue to be faithful to our loving Father!
Kim Edde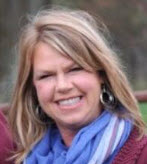 Interested in becoming a Women's Ministry blog contributor? Contact Jenn Dennard ( ) for details.
Interested in joining the Women's Ministry team? Visit our Teams page to discover our various committees and which one might be the best fit for you.
In need of prayer or a fellow woman in Christ to chat with? The Women's Ministry team would love to be there for you. Email Kim Edde ( ) to connect with one of our team members.
Stay up to date with Women's Ministry events here, and missions opportunities here.