Be Still and Know that You Can Survive (and Thrive) During the Holidays!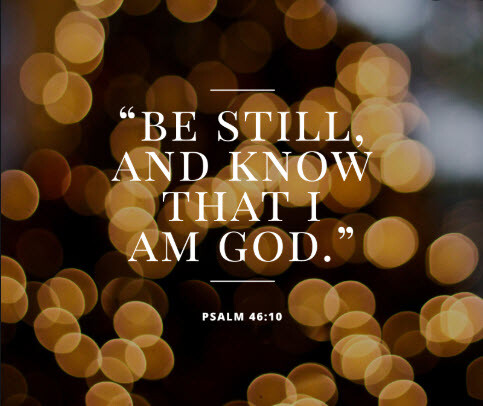 "Be still, and know that I am God: I will be exalted among the heathens, I will be exalted in the earth." (Psalm 46:10)
It's here. The holiday season. Take a deep breath. Don't panic! There is hope. Hope that you'll get through the next two months without feeling overwhelmed by the preparations, the decorations, the shopping, the card-sending, the parties, the family members who never seem to get along.
We all know that Jesus is the reason for the season, but sometimes that truth gets lost in the hustle and bustle of holiday prep. We know that we need to "be still," but find it hard to stop spinning like whirling dervishes. The traditions we at first so happily engage in can quickly become overwhelming, leaving us feeling depleted and with little time for reflecting on the birth of our Savior.
Perhaps you can identify with some of the seasonal struggles below:
"I used to get overwhelmed by decorating, felt my house had to look perfect. I overcame that by dialing back my expectations and making a more reasonable schedule for decorating." - CJ
"I love volunteering at my kids' schools, and I tend to overbook myself during the holidays, trying to volunteer at everyone's party, on every field trip, and for every program. A few years ago, my busy schedule and my 'yes' to everything had me overwhelmed. I normally start listening to Christmas music in October, but that year I just couldn't even listen. I realized my many 'yesses' had caused me to just go through the motions and not even stop to listen to songs praising God for sending His Son!
I learned over the following years that I can say 'yes' to one or two things, but that I also need to give myself time to sit and enjoy the lights on our trees and listen to music. I now get up earlier than everyone else and turn on soft music and the tree lights so that I can start my day with 'breathing time.'" – Kimberly
"About two years ago we were buying our kids gifts just to buy them. I was literally buying things so that they would have the same number of presents. Last year, we did the four gifts (something you want, something you need, something you wear, something you read) – so much less stress and we were able to spend more time together on the reason for the season. This year, we are going to try to give more experiences than gifts!" – Melissa
"Buying gifts for EVERYONE got out of hand for us several years ago (choosing that perfect gift combined with the expense), so we made a new rule: gifts only for kids plus an occasional name-draw gift exchange for adults. It's really all about the time spent together!" – Jess
"I think all of the last minute 'small' stuff really gets us frazzled: gifts for teachers, friends of my tweens, class parties, gift exchanges, dance company girls and instructors, coaches, mailman … you name it. It can get crazy, and takes the focus off of the peace and calm of Christ's birth if we let it." – Sarah
"I bought a puppy at the last minute (literally Christmas Eve) just to try to have the very best gift a boy could want. Don't buy a pet if you're caught up in the moment. We spent five years trying to adjust to having a very excitable dog until we finally decided it wasn't suitable to our lifestyle and gave him to a friend. Since then, I've tried to be more practical with gift planning." – Sandra
"Best Christmas I ever had was a destination Christmas so that we could make memories (in lieu of gifts). It eliminated all stress and materialism." – Donna
Can you identify with any of the stories above? It's so easy to get lost in trying make everyone happy that we wind up losing out on opportunities to celebrate Christ's birth. Whether it's sitting for a few minutes in front of a softly lit tree listening to songs of praise, enjoying "quiet time" instead of rushing out to shop, or scaling back on decorating to avoid a holiday hissy fit, there are ways to keep Jesus at the center of your Christmas season.
Join the Women's Ministry on Sunday, November 10 at 6:30pm as we "Gather Around the Table" for honest conversation with women of all ages and stages about how to not only survive the Christmas season, but thrive in our relationships with Christ. Click here for more details and to RSVP.
Jennifer Dennard
Interested in becoming a Women's Ministry blog contributor? Contact Jenn Dennard ( ) for details.
Interested in joining the Women's Ministry team? Visit our Teams page to discover our various committees and which one might be the best fit for you.
In need of prayer or a fellow woman in Christ to chat with? The Women's Ministry team would love to be there for you. Email Kim Edde ( ) to connect with one of our team members.
Connect with the Women's Ministry via Facebook (https://www.facebook.com/bhbcsistersoftheheart) or Instagram (bhbc_women)