In the month of March, we want to challenge everyone to be a part of serving our community
Serve 3 times as an individual
Examples:
Bring breakfast to work "just because"
Reach out and help a neighbor
Pray with a server at a restaurant where you're eating
Help refill snacks in a "workout pantry" at a high school for student athletes
Provide a meal/treats at your dental/doctor's office
Bring treats to the office staff of your child's school
Pay-it-Forward in the drive thru
Serve at the Noonday or Sweetwater Pantry
Prepare a meal or snack for Aloha to Aging that meets at BHBC on Tuesdays (e-mail for opportunities)
Share a talent, special gift or volunteer with the Aloha Day Club on Tuesdays ( for more information)
Serve with an Assisted Living teams to assist during a hymn singing at The Overlook at Cedarcrest, Aspen, Kimberly or Sterling Estates. Email for dates and times
Volunteer with one of our Good News Clubs at local schools (McGarity on Monday afternoons, Abney on Tuesday afternoons, contact Janet Miles for more information )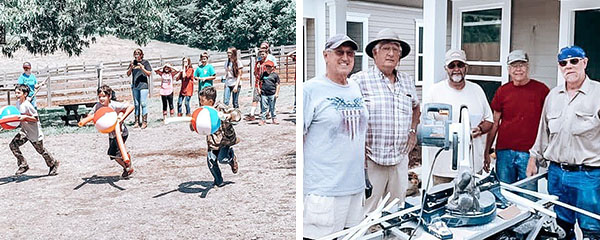 Serve 2 times as a family
Examples:
Provide a meal for Calvary Children's Home
Take treats to the local fire department
Pack food boxes at Noonday Storehouse Ministries
Help one of our local schools with a spring spruce up
Visit an elderly neighbor or shut-in
Provide a meal/treats at the local DFACS office
Put together and deliver to DFACS "emergency kits" for children in foster care
Host a diaper and wipes drive and deliver them to Paulding or Cobb Pregnancy Services
Create "Sweetwater Easter Baskets" containing everyday bathroom essentials (full size shampoo, soap, toilet paper, etc.), Easter treats and an Easter card for families coming to the Sweetwater Mission Pantry

Serve 1 time with your LifeGroup
See your LG leaders for more information on how your LG is serving in March
There are so many opportunities to reach out in our local community and show you care! Use the ideas listed or think of your own. The sky is the limit! How can you show Jesus and live missionally in March and throughout 2020?