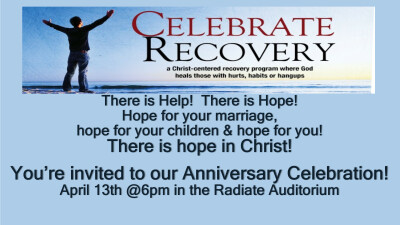 Click HERE to Register for our Anniversary Special Event.
Celebrate Recovery is a Christ-centered recovery program where God heals those with hurts, habits or hangups.
Celebrate Recovery can:
• provide a safe place to share experiences, strengths and hopes with others who are also going through a Christ-centered recovery
• provide a leader who has gone through a similar hurt, hangup or habit and who will facilitate the group
• provide the opportunity to find an accountability partner or sponsor
Celebrate Recovery meets weekly on Thursday evenings from 6-9pm on the main campus of BHBC. Dinner is from 6-7pm, worship and large group is from 7-8pm, and small groups meet from 8-9pm.
To register for childcare, click HERE.
For more information, contact Ron Wishon or Alecia Hawkins.