Welcome to Burnt Hickory's Women's Ministry

We would love to have you be a part of our new Mentoring program - 'Standing Strong' - Informational meetings begin on Sept 16th, more information available at this link.
Our next event is: October 14th 2018 - The Bridge with Lisa Harper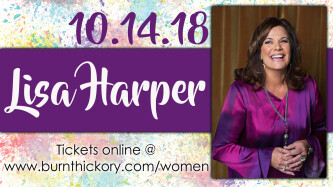 Tickets are on sale now CLICK HERE.
We would love to keep you up to date with the Women's Ministry news - Please click here to sign up for updates.
The Women's Ministry of BHBC exists to disciple women in our church and community; to lead by example; to pour into other women what has been poured into us by our mentors; to serve, be available, and be a resource for all women; to be a witness and lead women into the kingdom; to build relationships and unify women of all ages.
Our events, studies and ministries/teams are planned with all of you in mind, and we encourage you to become involved in one or more of these in some capacity. Your participation in our ministries and teams will not only help you develop close relationships with your sisters in Christ but will also enable you to use your gifts, talents and abilities in serving the Lord. Your involvement in a Bible study will enrich your life by helping you to apply God's Word on a personal level every day.
We ask for your ongoing prayer support for the Women's Ministry as we continue to seek His will for the women of Burnt Hickory as well as those in the community and beyond!