Welcome to Burnt Hickory's Women's Ministry
Our next event is: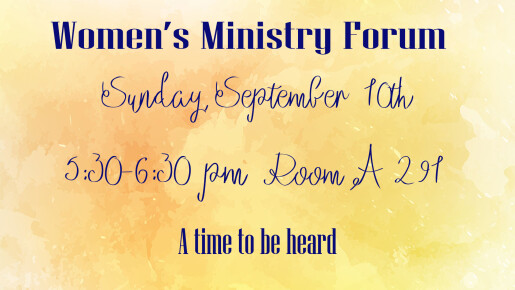 You are invited to join us at this forum, and tell us what you would like to see the Women's Ministry doing at BHBC. Our goal is to come along side you as you seek out ministry opportunities, we want to help you reach others for Christ.
The Women's Ministry is designed for every woman at Burnt Hickory Baptist Church. Our specific events, Bible studies and ministries/teams are planned with all of you in mind, and we encourage you to become involved in one or more of these in some capacity. Your participation in our ministries and teams will not only help you develop close relationships with your sisters in Christ but will also enable you to use your gifts, talents and abilities in serving the Lord. Your involvement in a Bible study will enrich your life by helping you to apply God's Word on a personal level every day.
Our Women's Ministry web pages provide an overview of all the opportunities available regardless of your age or season in life, your spiritual gifts or even your availability! (The many areas of service have varying levels of commitment to accommodate those of you whose time may be limited.) Should you have questions for anyone specifically, just click on the "Teams" button at the top of our main webpage to find the contact info on the person (co-leader or team leader) you need.
Pray about where God is leading you to participate or serve. We would love to have you come alongside us as we Unite Together to Make a Difference for His Kingdom. The Lord has already directed us down some new paths and we are extremely excited about what lies ahead.
We ask for your ongoing prayer support for the Women's Ministry as we continue to seek His will for the women of Burnt Hickory as well as those in the community and beyond!