Annual Men's Wild Game Dinner and Pre-Party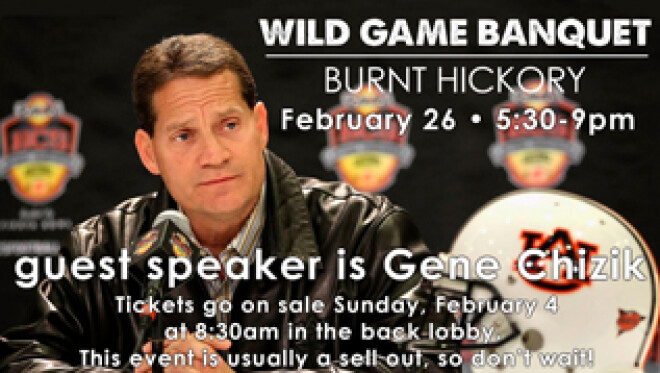 Monday, February 26, 2018, 5:30 PM - 9:00 PM

Wild Game Banquet featuring guest speaker,
Gene Chizik
Gene Chizik has been a part of two National Championships as a college football coach, but Coach Chizik is winning on a different field today. Chizik is now an entrepreneur, an ESPN / SEC Network analyst and motivational speaker.
A father of three, Chizik put family over football when he stepped down after successful coaching stops at the University of Texas, Iowa State University, Auburn University and the University of North Carolina.
Since going home to Auburn to be with his family, Chizik hasn't missed a single one of his son's baseball or football games. He also enjoys spending time with his twin daughters, both students at the school where he won the National Championship in 2010.
Former players will attest that Chizik always speaks from the heart. He is candid and honest, even in the heat of battle. What his players remember more than winning championships is the impact that he had on their lives.
Whether it is business executives, sales professionals, coaches, Christian groups or nonprofits, Chizik's power to motivate and lead translates. You will often catch him saying, "Football is a fantastic mirror of everyday life."

In addition to his work on ESPN and The SEC Network as a respected football analyst, Chizik is a successful businessman. He owns three restaurants in the Auburn area.

Gene Chizik has never been "just a coach." Now, he is taking this time to invest in his family, leaders and organizations making a difference in the lives of others.
pre-party
5:30pm sharp
Join BHBC Men's Ministry on the Front Lawn for an awesome display of vendors with on-site demonstrations. Wild Game samplings will be served.
5:45pm-doors open for seating in worship center; bbq is served
6:30pm- speaker presentation begins
Ticket Info:
This event is sold out. Please contact Wesley White at for more information.