The Bridge: Pie Night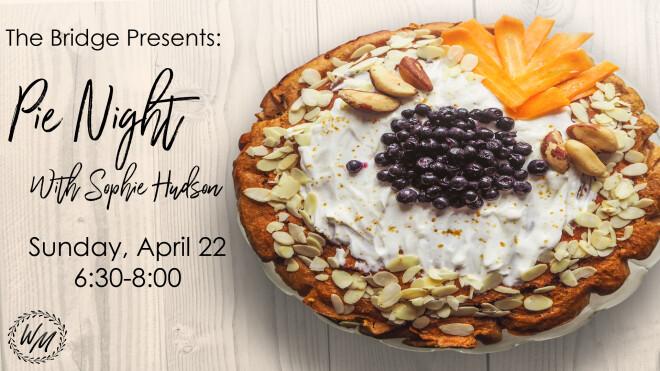 Sunday, April 22, 2018, 6:30 PM - 8:00 PM
Location: Radiate Auditorium
The Women's Ministry and Ladies of "The Bridge" invite you for an evening to share desserts, relate with other women, and connect to new friends with similar interests.
We will have a time of worship and hear from Sophie Hudson, the author of Giddy Up Eunice, a book about women's relationships in the Bible.
MISSIONS FOCUS: Please bring full size hygiene items for Sweetwater Mission.
If you are willing to bring a pie to share, please check our Website for more information and to sign up: www.burnthickory.com/women
Spread the word to your friends and join us for Pie Night!
More about the Speaker:

Sophie Hudson loves to laugh more than just about anything. She began writing her blog, BooMama.net, in November 2005, and much to her surprise, she's stuck with it. Sophie hopes that through her stories, women find encouragement and hope in the everyday, joy-filled moments of life. In addition to her blog, Sophie is a contributor to the Pioneer Woman's blog and serves as co-emcee for LifeWay's dotMOM event.
She is the author of several books, including Giddy Up, Eunice: Because Women Meed Each Other.