IF: Gathering, Women's conference 2018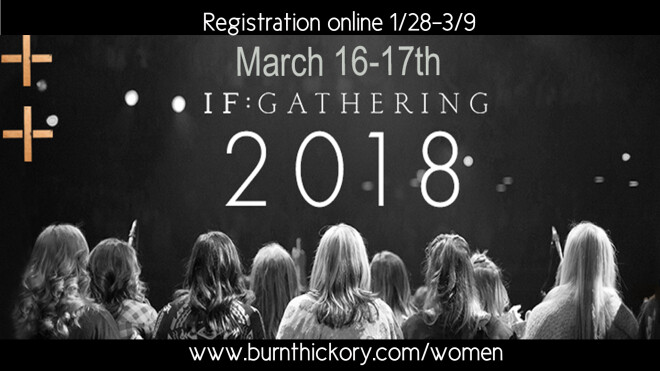 Friday, March 16, 2018 - Saturday, March 17, 2018
What is IF:?
The IF: Gathering is a global online women's conference hosted in Austin, Texas, annually. BHBC is excited to be an IF: Local provider this year.
If: Gathering began in 2007, and since its first online launching event in 2013, the gatherings have reached more than a million women in over 50 countries worldwide.
IF: Gathering 2018 focuses on the early church. They are the model that we so desperately need now...a simple and pure relationship with God, driven by simple acts of faith. We are called to live our daily lives unified and totally surrendered to Him.
To find out more background information about the If: Gathering,
What can I expect at the conference at BHBC?
There will be live music, video instruction, and small group discussion and fellowship. Light refreshments will be served, and lunch is provided on Saturday. It's very casual, and we want you to invite your neighbors, co-workers, gym buddies, family, and friends!
The Details:
Friday, March 16th 6:30-9:30pm
Saturday, March 17th 9-3pm
Just $20 per person for the two-day event.
BHBC Campus
5145 Due West Road
Powder Springs, Ga 30127
Register HERE