Welcome to the Arts Academy
"Praise Him with the sounding of the trumpets, praise Him with the harp and lyre, praise Him with timbrel and dancing, praise Him with the strings and pipe, praise Him with the clash of cymbals." Psalm 150:3-5
God created the arts and the artists! The Burnt Hickory Arts Academy was established to use the gifts and talents of the instructors and participants for the glory of our Lord and Savior, Jesus Christ. The goals of the Arts Academy are to:
reclaim the arts for the exaltation of God by providing quality instruction in a Christ-centered environment, and
provide opportunities to share the gospel of Christ to Burnt Hickory and the surrounding community through classes and performances.
Looking for Sole to Soul Dance Academy? Click HERE.
Private lessons in piano, guitar, voice, and more. Group classes for young musicians. Click HERE for more information.
FALL SEMESTER is underway. For lesson availability and enrollment, EMAIL the Administrator, Rosemary Turner.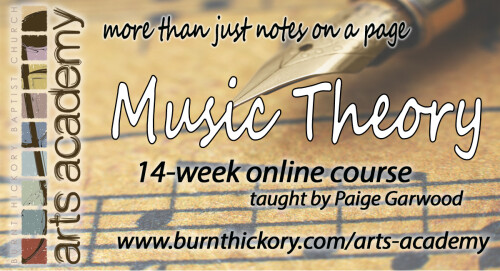 NEW! ONLINE Music Theory classes (Levels 1 and 2). Click HERE for more information.
The Arts Academy strives to provide students with an excellent music or dance education in a safe atmosphere as well as positively impact the spiritual lives of the students and their families through:
encouraging classroom atmospheres led by experienced teachers and accompanied by contemporary or children's Christian music,
worshipful performance opportunities of instrumental or dance pieces, emphasizing appropriate music, movement, and costumes,
exciting summer camps and weekend workshops designed to introduce and educate students in music and dance, and
Christian spiritual guidance through Bible-themed classroom activities and scripture verse memorization.
Click HERE to email the Arts Academy Administrator.
For more information about the Sole to Soul Dance Academy, click HERE.